Dine in Downtown Mount Vernon
Come and enjoy a variety of dining experiences in downtown Mount Vernon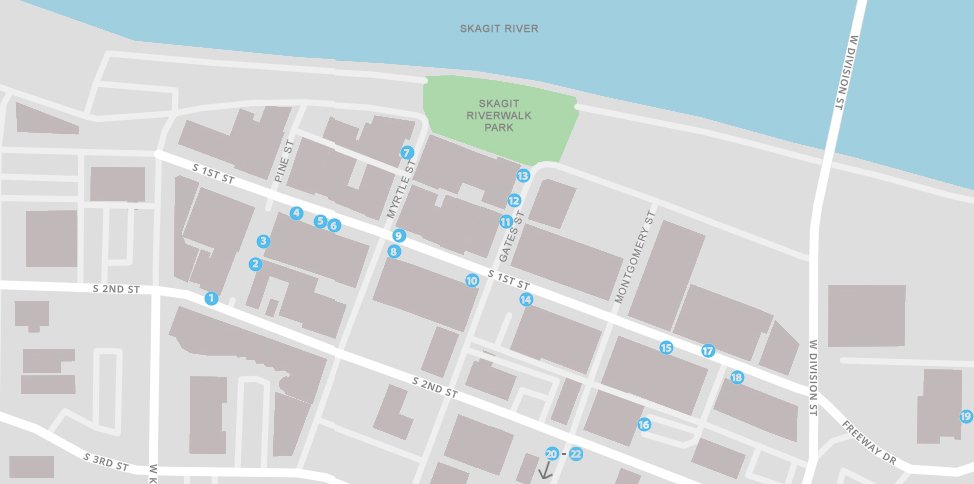 C

An award-winning specialty cafe serving breakfast and lunch with famous "made from scratch" bakery.

Authentic, handcrafted Mexican cuisine such as tacos, tortas, burritos and more that pair well with over 50 hand-selected tequilas. 

the newest expansion of the skagit valley food co-op, a marketplace of specialty food shops, alongside the third street cafe, an innovative farm-to-fork menu featuring fresh and seasonal local foods, with a full-service bar pouring house-infused cocktails, fine wines, and local beer, ciders, and kombucha on-tap.

D

Classic Americana. Always hosting for your favorite sporting event.

E

17 tap micro beers, specializing in unique and seasonal beers burgers, steak, seafood, pasta & panini sandwiches.

G

Owner, head chef and native Italian Alberto Candivi offers his guests an incredible menu of European cuisine, reflecting the passion for 'good food and good company' that his homeland is known for. 
S

Shambala Bakery offer an exclusive gluten free, vegetarian menu and bistro, designed to "please ALL palates" seeking nutritious and tasty food options. 

Brewery bar with wood-paneled walls, patio seats and live music serving house beer, BBQ and other grub.

We offer entrees, side dishes, salads, soups, and sandwiches -– all made from scratch in our kitchens.

T

Authentic Indian food with a view of the river.

Excellent Thai cuisine as well as a wonderfully spacious ambiance.

Hand crafted ales, fine spirits and wines. Everything is made from scratch and our gluten free menu is world renown. 

U

A different menu every night as you are served by Chef Hiroki in this intimate dining atmosphere.

V

A premier boutique distillery and restaurant that offers top shelf spirits and a seasonally-inspired menu.